About Us
Cotton Roots featured on the BBC.
History
Our MD Susan was watching seals on a stunning beach in Scotland near the Findhorn Community, when the idea of Cotton Roots was born.  It is now our passion.  A team of nine people plus supporters are lucky to work in buildings set in beautiful Rose Lane Farm which is still a fully working farm. We drive between fields of crops every day and notice the seasons change with their growth.  Owl nests, buzzards, hares and rabbits everywhere.  It seems fitting to be here.  A place which reminds us of how lucky we are to live in the UK and our determination to treat others fairly, including you!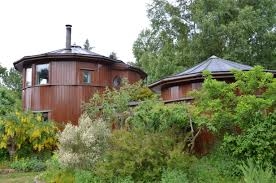 Whiskey barrel houses at Findhorn Community
Our Dream
Our dream is to give you a real choice at your company, the option to choose clothing which ethically stands out.  At Cotton Roots we make and supply clothing for you which has a range of ethical certifications. From Fairtrade, organic, recycled materials and made in the UK.  We offer a choice of high quality, ethically certified garments suitable for your organisation or company. 
If you have any particular questions regarding certification and sourcing please get in touch sales@cottonroots.co.uk or call 01908 511051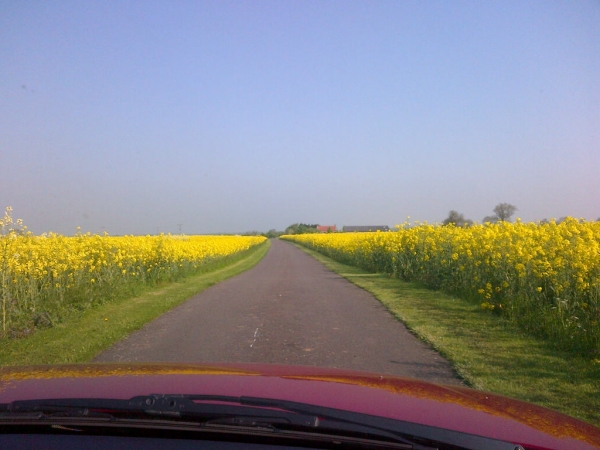 The view through my car windscreen on the drive into work.
Tina has been with us for nine years and is the Office Manager she works with Emily
Susan is still the director.
Ros is the loudest member of the production team and she works along side Kelly who is our youngest member!
Our newest team is the Design Team which take care of all the bespoke aprons, design, production and sampling. 
Liz is our bespoke apron specialist and works with both design and production. 
Ruth is the newest member of the team and she looks after our ordering suppliers. 
We continue to offer a service which is of the highest standard absolutely reliable and one which inspires confidence from our customers