Embroidering Your Logo
Embroidery of customer logos is a speciality of ours.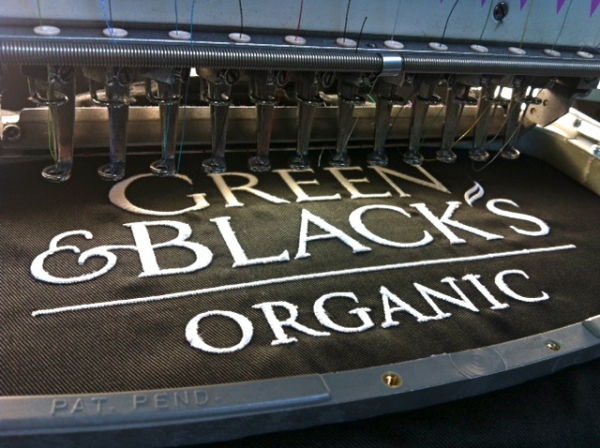 We are specialists in embroidering logos onto garments.  The quality of our work is excellent because of our expertise, modern machinery, quality embroidery thread, and belief that our customers image and brand are our top priority. 
Your Design – Artwork
What we need from you
All we need from you is a clear copy of your design.
You can email it to us – a simple JPEG would be fine.

Alternately you can post us a compliment slip, a drawing or a business card.
We will offer advice based on our experience to ensure the final result will be excellent.
Within four days we will post to you a sample of your embroidered logo so that you can make sure you are delighted with the size, colour and quality.
Your approval
Once you have given us your approval we will then complete your order.
Embroidery onto garments is a skill and our staff will make sure the embroidery is straight, correctly positioned and consistent throughout your order.
Your pantone references – matched to thread
If you have specific pantone colours in your design please let us know.
Using pantone thread guides we will select the correct colour thread for your logo. 
We use top quality rayon thread so you will not have to be concerned about fading or the colour running.  
The Costs
Origination of your logo
There is a "once only" origination cost with your first order of £20.00 plus VAT to digitize your logo.  Once this has been completed we can use the file on your future orders.  Large embroideries, for example on the back of a jacket will cost a little more.
Embroidery of your logo
For standard embroideries onto the left breast, sleeve and back of the neck the cost is £2.00 plus VAT per garment.  Standard large back embroideries will cost £5.00 plus VAT.  On occasion this may be less e.g. for lettering.  A print for very large designs may be a better option, we are happy to advise of the best solution so please contact us.
Urgent deadlines
Please let us know if you have urgent deadlines to meet.  We embroider garments at our premises so we can usually speed things along on request.  There is no extra cost for this service.
Low minimum order
There is a minimum order of just 12 garments or 12 caps for your first order, we supply the garments for this. 
On any future orders the minimum order is 8 embroidered garment and orders of 9-11 an extra £2 per item.
Delivery
Delivery is two weeks from order approval. We aim to make delivery costs reasonable for you, for example 40 polo shirts will cost around £12.00 +VAT to be delivered mainland UK.