< Back Made to Order Aprons
Aprons Made to Order - Your Designs
Do you have an Apron Design you need manufactured? We can help!

We offer an array of finishing options which includes:-
Type of fabric - organic, fairtrade twill, cotton twill, polyester cotton, calico, denim

Pockets - choosing the number and position of pockets

Fastenings - buttons, buckles, velcro

Ties - colour, length and fabric
Contact Us today to learn about the bespoke aprons that can be created for your business.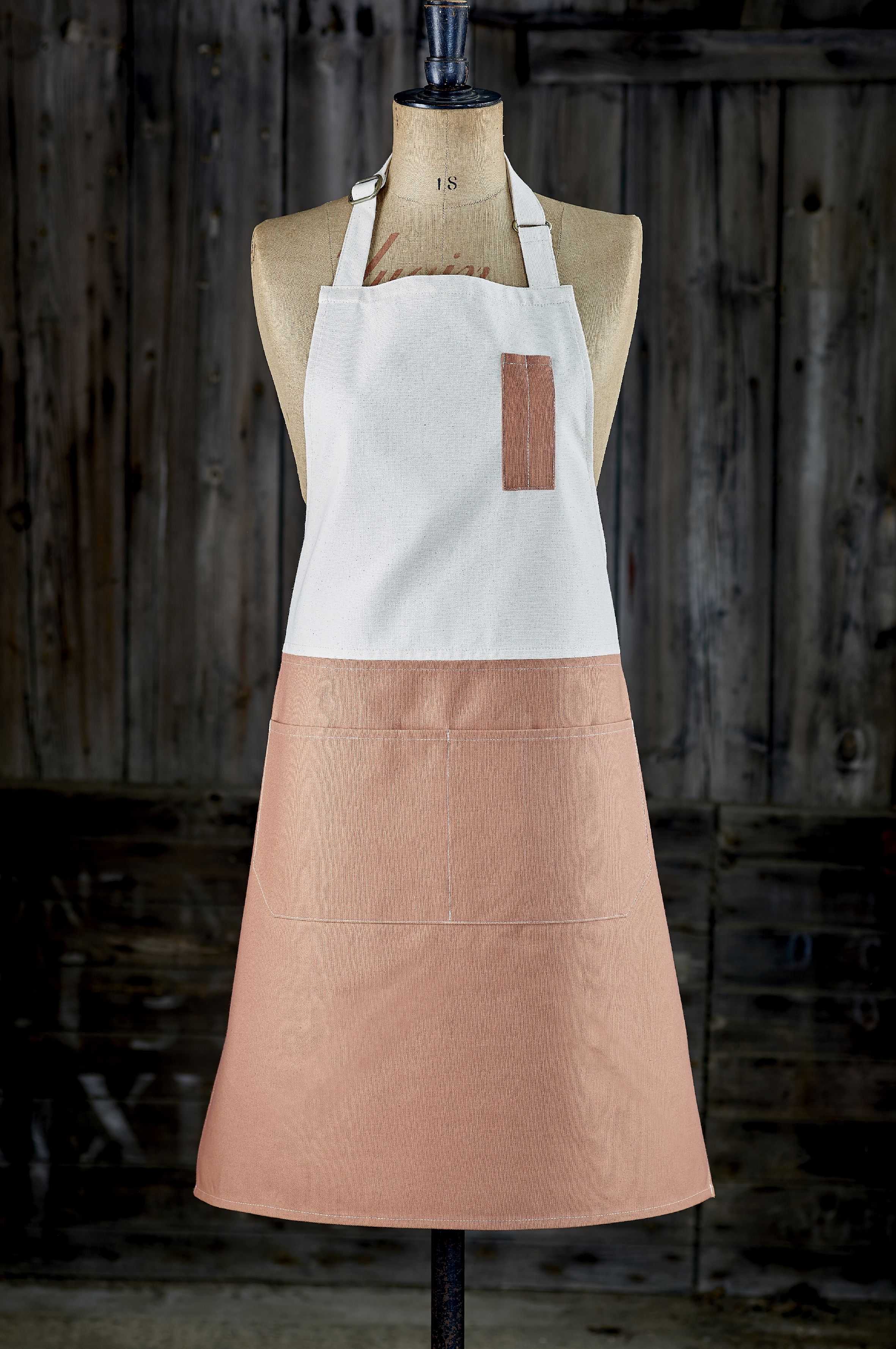 Choose your own colour
If you have a particular colour in mind we will match it from more than 100 different colour fabrics we have available from stock. Simply provide us details of the colour, such as the colour reference, pantone colour, or even by sending us an item showing the colour you wish us to match too.
We will search our stock fabrics and send swatches in the nearest match for you consider.
Pantone dyed aprons - made in Britain
It may be the best solution to dye and pantone match the aprons to any colour you give us.
We manufacture hardwearing 300gsm aprons in the Britain which we have designed especially for dyeing.  They are well made and have neck adjusters and a double pocket.  We will dye them to the colour of your choice.
Pantone dyed aprons - made in Britain
It may be the best solution to dye and pantone match the aprons to any colour you give us.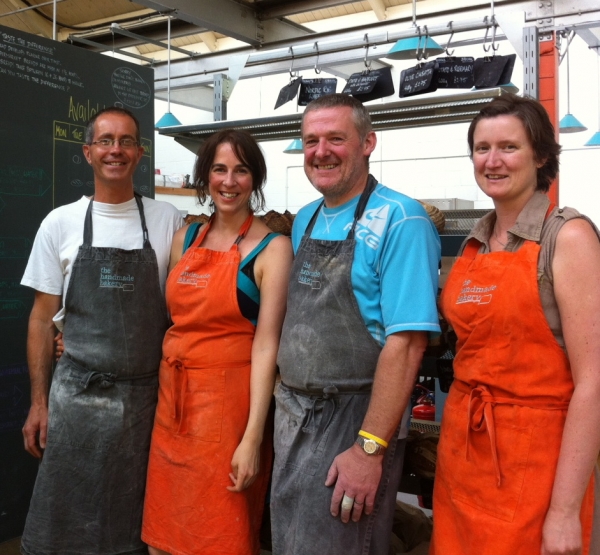 We can also match fabric to paint colour charts, compliment slips, or CMYK references.  
With a minimum order of 50 Aprons.
Example
We supplied aprons to the Handmade Bakery and dyed them to match their Farrow and Ball painted walls.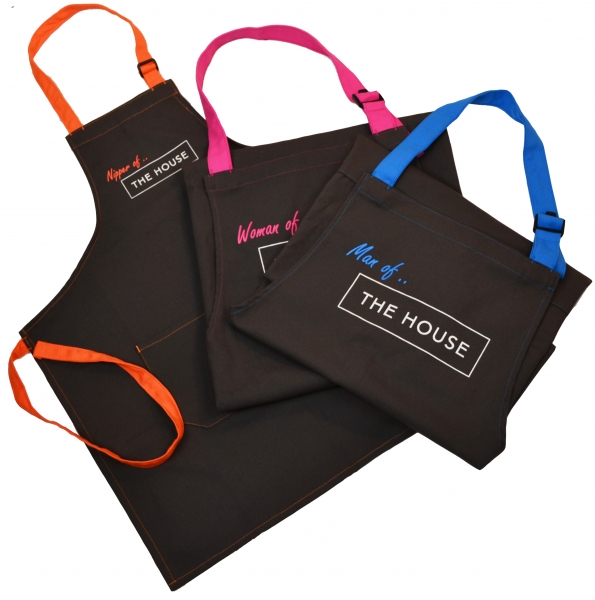 Dye the fabric - make the aprons
We can dye fabric and manufacture the aprons for you to match your pantone colour.
You would receive a small piece of dyed fabric for you approval before we proceed with your whole order. 
The fabric is dyed and then the aprons manufactured all in Britain. 
Example - Eden Project
We supplied the Eden Project with aprons by dyeing organic fabric then making the aprons to their design.
Delivery is between 8-9 weeks.
Organic aprons - Made to order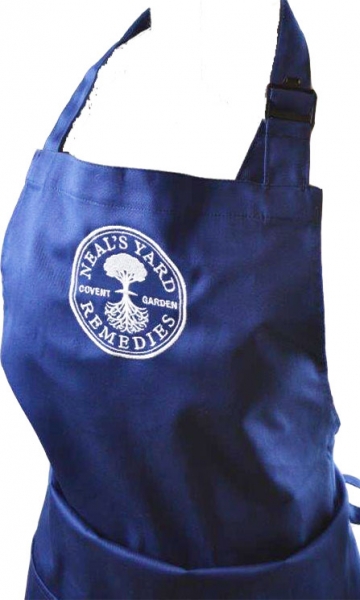 We use beautiful, "Panama" unbleached canvas as our starting point when we manufacture 
organic aprons for our customers.  The fabric is a cream colour with tiny black flecks of cotton seed visible - it has the look and feelof authenticity.
We can use this unbleached canvas in it's natural state or we can dye it for you in the colour of your choice.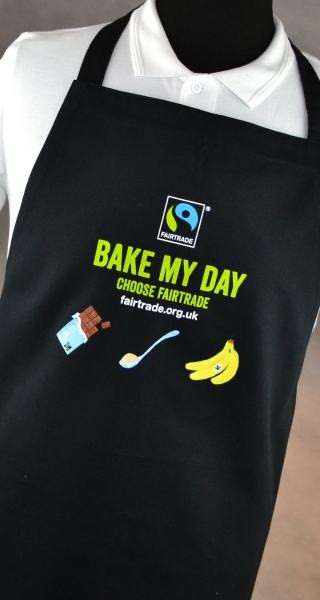 Fairtrade & organic aprons
This is one of our specialisms. We can either manufacture in India for you where we work with cotton farmers. It is possible to trace the cotton and the production of the aprons along the entire chain.  As Fairtrade licensees ourself we are also audited.  We believe it is the "gold Ribband" certification for cotton and clothing.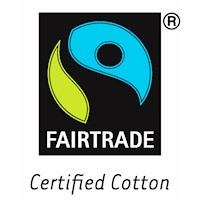 We can also have stock of cream unbleached, black, red and white Fair-Trade and organic cotton which we can use to create aprons in Britain.

Cotton Roots - Gallery of Aprons