< Back The official EU Mark for Greener Groducts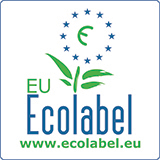 An EU Eco-label award scheme has been in operation since 1993, when the first product groups were established. The individual product must comply with all criteria (key, best practice and performance) in order to be awarded the EU Eco-label.
The EU Eco-label criteria take into account the main environmental impacts of a product and the technically possible improvements. These criteria are established at the European level by the EU Eco-labelling Board. This Board involves the European Commission, the national EU Eco-label competent bodies, industry, consumers, environmentalists, trade unions and SMEs. This ensures a transparent procedure, European-wide consensus on the scientific reliability of the criteria and credibility in terms of protection to the environment and product efficiency.
The EU Eco-label scheme is public, transparent and non-discriminatory. It is valid and identical throughout the European Union, as well as the European Economic Area (EEA) countries - Norway, Iceland, and Liechtenstein. Products and services originating from outside the EEA can also be awarded the EU Eco-label under exactly the same conditions as their EU equivalents.
For more details go to: products, textiles, clothing at
http://ec.europa.eu/environment/ecolabel/index_en.htm
The official EU Mark for Greener Groducts Certified Products